Set on the stunning shores of Lake Champlain!
Welcome to ACA @ the University of Vermont!
On the shores of Lake Champlain, Burlington is a vibrant and cosmopolitan center and a renowned college town. It has the excitement of a large city while maintaining an intimate atmosphere. Surrounded by great hiking trails and bike paths and filled with quaint shops and restaurants, Burlington is the perfect place for anyone looking for an exciting summer. You can even go sailing, swimming or kayaking on Lake Champlain!  All while enjoying Burlington's idyllic summer weather!
The University of Vermont represents the very best the Northeast has to offer, excelling in academics, research, recreational facilities and athletic achievement. It is an ideal environment and a picture perfect campus for pre-college students who want a real look at top-caliber college life.
Transportation is not included in tuition.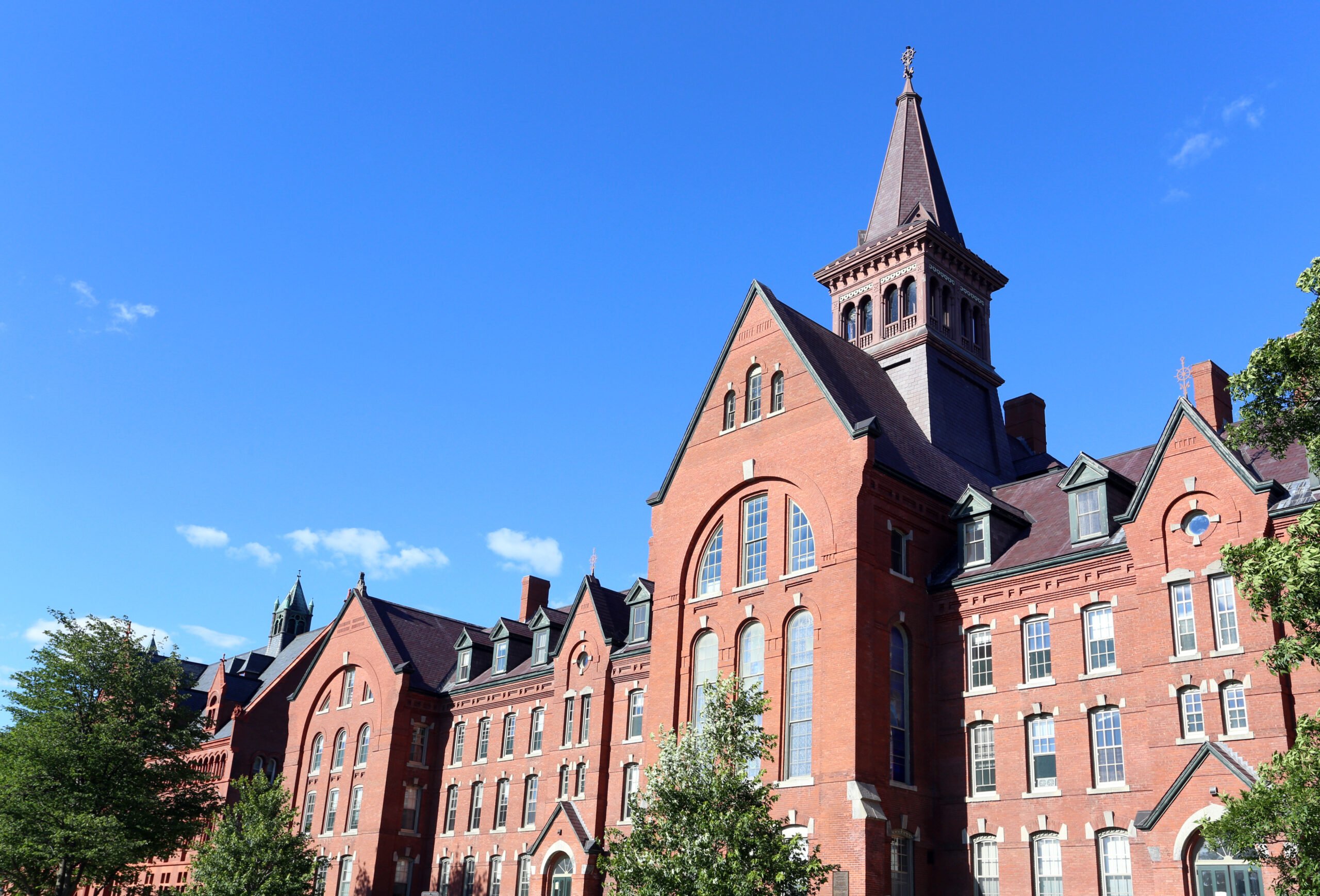 Classes run Monday through Friday.
 At ACA, we know safety comes first. Our ten-to-one student-to-staff ratio – one of the lowest in the industry – lets us provide each student with unmatched attention and supervision. 
As part of our commitment to student safety, ACA staff members live on student-occupied floors, accompany students on all activities and excursions, and are always equipped with cellphones for emergencies. ACA takes care to use private transportation for our weekday activities and weekend adventure trips – never public transportation. The UVM Medical Center is located a few blocks from our residence and is the largest medical center in Vermont.
Parents will also be reassured to know that Burlington not only ranked as America's top college town  (Travel + Leisure magazine), but it is also incredibly friendly, inviting and one of the most down-to-earth college towns.
We recommend that students travel with ACA, via deluxe motorcoach, fully chaperoned for the beautiful drive from the Tri-State NY area.  Our program will offer various pickup points making it convenient and easy for families. 
For students outside of the Tri-State area, we recommend that students fly to Burlington Airport (BTV). There they will be met by ACA staff members, who will escort them to comfortable, air-conditioned shuttles for the short drive to the University of Vermont.
Of course, parents are also welcome to drive students to the University of Vermont directly. Contact our office for further information on any of these travel options.
*Transportation is not included in tuition.
ACA's signature Vermont program offers the kind of personal enrichment electives that build confidence for college while also giving you the chance to grow academically and intellectually.
The ACA experience gives you a welcome preview of college life, and still delivers plenty of opportunities to enhance your knowledge and pursue your interests. Pursue a new passion, explore your inner creativity, practice a sport. Do it all in an amazing summer setting, surrounded by new friends and without the pressure of grades!
The academic portion of ACA's Vermont program consists of college-style courses.
ACA classes are graded on a "satisfactory" or "unsatisfactory" basis, and all students receive an ACA "Certificate of Achievement" upon successful completion of each course.
Classes are held Monday through Friday, and are taught by distinguished members of the University of Vermont faculty, graduate students, secondary school instructors or Burlington-area professionals. Instructors teach in an interactive, seminar style, creating a supportive environment that encourages you to actively participate in each class.
ACA fills courses on a first-come, first-served basis, so we strongly recommend enrolling in the program early to better ensure the availability of your desired courses.

Elective Options: 
You will be able to choose two of the following options for your stay:
Elective

1 Selection (9:30am - 11:00am):
Elective

2 Selection (11:15am - 12:45pm):
Elective

1 & 2 Selection (9:30am - 12:45pm):
* A supplemental supply or lab fee will apply.
Burlington combines the energy of a classic college town, the sophistication of a Public Ivy and the friendliness of a loyal local community. It's also a perfect place for anyone looking for an active summer! It's surrounded by great hiking trails and bike paths and filled with quaint shops and restaurants. You can even go sailing, swimming, paddle boarding, or kayaking, on Lake Champlain! Professional instruction and equipment rental are always available. Be sure to pack your sense of adventure!
You can count on outstanding accommodations – this is ACA!
With ACA, you stay in style, enjoying the finest residence accommodations of any pre-college summer program. ACA's residence hall at The University of Vermont features deluxe rooms complete with wifi, linen service and, of course, air conditioning! You'll also like the state-of-the- art workout facility. Plus, their lounge areas and study rooms make it easy and fun to hang out with friends. Catch your favorite program on cable TV, play some Xbox, or watch a DVD. And rest easy, because the front-desk staff and ACA office is on-site to ensure your safety 24 hours a day.
Choices, choices, choices! From home-style meals served at breakfast and lunch and dinner options, ACA's dining-on-the-town option that allows you enjoy favorite restaurants — no pre-college summer program gives you as many dining options as ACA!
Weekday mornings, our breakfast buffet features freshly-made specials like eggs, pancakes and waffles alongside plenty of fresh fruit, cereal, bagels, yogurt and pastries. You'll have no problem fueling up for the day!
Lunch and dinner at the on-campus dining facility during the week features a wonderful choice of kitchen-fresh entrees, a selection of side dishes, a soup-and-salad bar, beverage bar, desserts, and fresh-baked breads and pastries.
On weekends and occasional weeknights, you'll be able to take advantage of ACA's exclusive Dining-on-the-Town-Plan. It lets you choose great dining-out options at a variety of ACA-selected restaurants – and it's included in your tuition! 
Whether you want to tackle some local delicacies or stick to hometown favorites, you're sure to find a restaurant that suits your taste. And don't worry, we make sure everyone eats just as well during our exciting weekend adventures!
The UVM campus and the city of Burlington are packed with plenty to do, and you'll have plenty of time to check out the attractions and activities that interest you most! Participate in a ropes course, explore the shops, sights and scenes in Burlington, enjoy a favorite sport, or just relax lakeside on the beautiful beaches of Lake Champlain.
If your sport is shopping, you'll find plenty to keep you busy at the Church Street outdoor mall. This energetic square is a popular destination for students, residents and visitors alike, featuring favorite stores like Free People and Urban Outfitters along with plenty of great local boutiques, restaurants, bookstores, coffee shops and more!
 You will have plenty of time to get to know Burlington throughout your stay with ACA! Some exciting activities include kayak, paddle board or sail Lake Champlain, hike a scenic trail, take a bike ride or go on a jog on the Waterfront Bike Path, feel the heat at ACA's bonfire, enjoy a game of pool or ping pong at the Student Union, putt around at mini-golf, catch a movie, and enjoy the sun and sand at North Beach.
Tour the University of Vermont, home to America's #1 college town (Travel + Leisure magazine), and this 460 acre campus located in the heart of Burlington was founded in 1791. The mascot for UVM is the Catamount (a panther) and the university is called UVM for Universitas Viridis Montis, Latin for "University of the Green Mountains".
Burlington and The University of Vermont Segway Style – Enjoy an afternoon on this 2 hour tour of beautiful Burlington that includes stops at the waterfront area continuing uptown to the energetic Church Street Marketplace and conclude with a very special tour of  the UVM campus.
Vermont Teddy Bear Factory tour (if available) – On this entertaining, exciting, clever, and educational tour, we will learn how our beloved Bears are brought to life from start to finish as we see the creative process in action. The tour concludes with a stop at Bear hospital where we will meet Dr. Nancy as she provides progress reports and visits with the many patients that have been sent in for care. 
Catch a cool outdoor cinematic experience at the Sunset Drive-In

Visit to Nectar's, famous for the birthplace of the band PHISH
Movie night at The Roxy (private to ACA)
A nighttime cruise aboard the Spirit of Ethan Allen III
Open Mic nights at Higher Ground Comedy Club
Sunset hikes, karaoke nights, bowling, laser tag, mini golf, ultimate Frisbee, bonfires and more exciting nighttime events are all part of your summer with ACA!
You'll have access to the University of Vermont's state-of-the-art athletic facilities including the fitness center, weight rooms, running tracks, basketball courts, outdoor playing fields, indoor pool, and more.
If you'd prefer some fresh air, the campus is surrounded by scenic running and cycling paths, and Lake Champlain beckons for a kayak trip or leisurely swim.
Beautiful Beaches:

You'll enjoy the beauty of this gorgeous coastal town. Explore three sandy beaches while sunbathing, playing sand volleyball, viewing stunning sunsets, hiking, water activities and more. You'll get the refreshing feeling of this fabulous coastal community.  Life's a BEACH in Burlington! 

Water Activities:

Kayak and paddle boat rentals are available on the picturesque setting of Lake Champlain. Enjoy the beauty of the lake while participating in many exciting water sports.

Petra Cliffs Rock Climbing:

Look up at your conquest, and let's conquer it together with the proper safety features and instruction! Petra Cliffs is one of the Northeast's top climbing facilities and is an incredible indoor facility designed to appeal to climbers of all levels.

Adventure Ropes Course:

 Located in the beautiful woods adjacent to the UVM campus is an exhilarating ropes course. Gain confidence, learn more about yourself and your mental and physical skills as you embark on this exciting adventure.

Centennial Field:

The baseball park is one of the oldest minor league baseball parks still in operation in the USA and is home to the Vermont Lake Monsters.

Echo Lake Champlain Science Center:

This exceptional aquatic center is committed to educating all ages about the ecology of animals, plants and marine life in the basin.
Complete your ACA Vermont experience with exciting weekend adventures.
Montreal (2 & 3 Week Program)
Overnight stay at McGill University, commonly known at the "Harvard of the North"
Old Montreal – Visit the city's most famous landmark filled with charming cobblestone streets, street performers, local cafes in hidden alleys, and the unique European flare.
Jet Boating – Take a thrilling ride along the Lachine Rapids on the Saint Lawrence River and view the picturesque Montreal skyline.
The Tam-Tams -This weekly festival complete with music, dancing, food trucks, and a bustling marketplace, where you can buy craft jewelry and vintage clothing. Its name imitates the sound of drums and refers to the drum circles that form the focal points of the gathering.
Aquazilla – Splash and play at Aquazilla's inflatable floating obstacle course and soak up the sun on the beach in Oka National Park.
Sainte-Catherine & Saint-Laurent – Discover the boutiques, shops, cafes, and street art of these two famous Montreal streets.
Mount Royal – One of the largest urban parks in Canada featuring a lake, hiking and biking paths, picnic areas, playground, and scenic outlooks.
Atwater Market & Lachine Canal – Walk along the picturesque Lachine Canal and stop by the local farmer's market on the city's Old Port
Ben and Jerry's Factory Tour (3 Week Program)
Enjoy a tour of the official factory located in the heart of the Green Mountains of Vermont. Taste samples, samples and more samples at the most delicious place on the East Coast!
Mt Mansfield/Stowe (3 Week Program)
A ski resort and village filled with shops, restaurants and a golf course. Take in the most spectacular views on the Gondola Skyride. Pack your sense of adventure for swimming and hiking. Shop and relax at the many shops and cafes at the base of the mountain. 
Add 5 days to your Vermont Adventure
Add to your Vermont experience and visit and tour the top of colleges and universities in the Boston area! (supplemental tuition required)
You'll remain in the secure company of trusted ACA staff members, as well as many of the friends you've made on your ACA program. Of course, you'll also enjoy the comfortable accommodations and superior guidance you've come to expect from ACA. 
Sometimes you just have to see a place to know what it's like. Nothing could be truer for your future college location. Visiting and touring potential schools is so important to the decision-making process. That's why ACA shows you the most pristine campuses. 
Along with college tours, you will explore the sights of Boston and see what makes it the nation's ultimate college town. From American history to pro sports loyalty, Boston is one of America's most exciting cities. From Newbury Street to Davis Square, the combination of big-city excitement and unbeatable college-town charm has something for everyone.
During your stay in Boston, you will get to visit up to 9 of the following schools:
Residential stay at one of the listed universities with accommodations including suite style, air conditioned residence halls.
"Thanks for everything these past two weeks!! It was such a fun experience!"



"Thank you so much for giving Lissie such an amazing experience. She had a blast and loved the counselors and kids! She misses everyone! Sending special regards to you all!"
"Reese had an amazing time at the program in Vermont! What a great place to spend his summer. Thank you!"


The most Personalized program