ACA @ Pepperdine University 
Malibu is famous for its ideal weather and sunshine, the perfect setting for your ultimate summer experience! Dynamic, culturally diverse and breathtakingly beautiful, Malibu combines the finest the California coast has to offer.
Add velocity to your serve. Learn to charge the net with confidence. Unlock the power of your backhand. Get a better understanding of the game's fundamentals. You'll play on top-caliber courts and get valuable instruction on how to take your game to the top!
Whether you're new to the court or an experienced tennis player, this camp will take you to the next level. Our instructors will work with you in small groups which provides students with more individual attention and a safer environment in which to learn tennis. Improve your serve, forehand, and skill as you soak up some California sun and prepare to become the next Serena Williams or Rafael Nadal.
June 30 – July 6, July 7 – July 13,
July 14 – July 20, July 21 – July 27

June 30 – July 13, July 7 – July 20,
July 14 – July 27

June 30 – July 20, July 7 – July 27
Transportation is not included in tuition.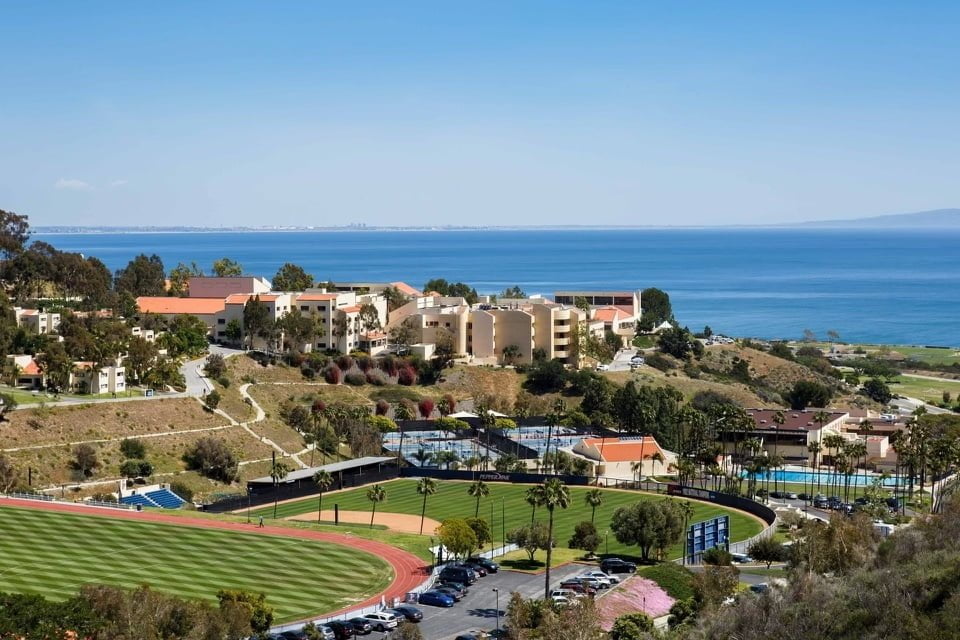 Surf runs Monday through Friday.
ACA has always been committed to absolute safety for every student. We maintain a ten-to-one student-to-staff ratio – one of the lowest in the industry – to ensure everyone gets the unmatched attention and unique personalized programs they deserve. 
As part of our commitment to student safety, ACA staff members live on student-occupied floors, and accompany students on all activities and excursions. ACA takes care to use private transportation for our weekday activities and weekend adventure trips – never public transportation.
The Residence Hall at Pepperdine adds an additional element of security, as well. The front desk is staffed 24 hours a day with trained personnel for your comfort and convenience.
We recommend that students fly nonstop to Los Angeles (LAX) International Airport. There they will be met by ACA staff members, who will escort them to comfortable, air-conditioned shuttles for the drive to Pepperdine's campus.
Of course, parents are also welcome to drive students to ACA directly. Contact our office for further information on any of these travel options.
*Transportation is not included in tuition.
ACA offers a commuter option for students who do not require accommodations. Commuter students join the program Monday through Friday from approximately 9:00 AM until 3:00 PM.
Please Note: Lunch is included in the cost of tuition.
A striking coastal town just north of Los Angeles, Malibu is home to countless celebrities, and now you can call it home, too! You'll live at Pepperdine with an amazing group of like-minded creative students and resident advisors in dorm-style housing. We pride ourselves on the fact that our residential amenities, top-quality food service and fitness facilities offer our students the very best. You'll kick back in comfort at Pepperdine, enjoying safe, clean and comfortable dorms with in-suite bathrooms, internet access and are for ACA only. These rooms definitely serve up cool California style!  
Breakfast and dinner at the on-campus dining facility feature a wonderful choice of kitchen-fresh entrees, a selection of side dishes, fruit, vegetables, salad bar, beverage bar, desserts, and fresh-baked breads and pastries. You'll enjoy lunch on the beach that gives you a variety of options. Your tuition includes includes three meals Monday to Friday and brunch & dinner on weekends.
On the shores of the Pacific Ocean, Malibu is a simply stunning place to spend a summer. It has the excitement of Los Angeles, the beauty of Santa Monica and the unparalleled pristine beaches of Southern California. Be sure to pack your sense of adventure!
Evening activities include:
Soak up the sun at Zuma Beach and jump the truly gnarly waves
Get to know California at its best during ACA's welcome scavenger hunt – our mad dash around Malibu!
Hang out at 

the Malibu Country Mart, a

 local celebrity hotspot

LA comes to life at the Universal City Walk. Grab a bite at one of the famous restaurants and then hit the trendy shops, all set under the beautiful California stars.

Catch the sunset at Palisades Park; it doesn't get much more iconic LA than this

Ride the dazzling Ferris wheel at the Santa Monica Pier

Sunset hikes, karaoke nights, movie nights, and more exciting activities are all part of your summer with ACA!
Complete your Malibu experience with exciting weekend adventures with ACA!
Serious Shopping in Santa Barbara– Get a Mediterranean experience on the fabled "American Riviera." This is one of Cali's favorite shopping areas. Wander the cobblestone walkways of State Street and sunny expanses of open-air plazas and promenades in search of "must-have" fashions. Take a break for a gourmet treat, then get right back in the hunt!
University of California, Santa Barbara– Tour the breathtaking campus located on cliffs directly above the Pacific Ocean (optional).
Watch Dreams Come True at the Happiest Place on Earth… Be sure to check out Star Wars: Galaxy Edge, Fantasyland, Adventureland, Tomorrowland, Frontierland, Critter Country.
 *Please Note: Disneyland replaces the day trip to Hollywood for students who select this excursion (Supplemental fee)
Hollywood's Walk of Fame– You have some big shoes to fill as you walk among the stars on Hollywood's Walk of Fame. See how your hands and feet compare to Hollywood elites like Meryl Streep, Brad Pitt, and Robert Downey Jr. in front of Mann Chinese Theater.
Hollywood Sign– The Hollywood Sign is more than just nine white letters spelling out a city's name. It's one of the world's most famous monuments and a universal metaphor for ambition, success, glamour!
The Grove– LA's favorite shopping, dining and lifestyle destination is home to celebrity shopping sprees and special events!
Venice Beach– LA's most iconic beach known for its bohemian spirit, Venice is a buzzing beach town. Free-spirited Venice Boardwalk is the site of funky shops, street performers and colorful murals. There's also a skate park and Muscle Beach outdoor gym
Abbot Kinney– Abbot Kinney Boulevard features foodie hot spots, stylish boutiques and coffee bars.
Santa Monica Pier– A favorite for Hollywood movie scenes, this California icon comes alive at night. Take a ride on the world's first solar-powered Ferris wheel or stop by the famed aquarium to get nose-to-nose with the ocean's most fearsome predators!
Third Street Promenade– The world-famous strip features designer boutiques and award-winning restaurants, all in the heart of Santa Monica. The outdoor mall is full of colorful street entertainers and dancers enjoying perfect California weather.
Known as "The Pearl of L.A.'s South Bay" Manhattan Beach is home to over 100 locally owned, boutique, and specialty retailers and lots of trendy coffee shops and restaurants. Stroll down the boardwalk and soak up the sun on this pristine beach!
Go Behind-The-Scenes Of The Largest and Busiest Motion Picture and TV Studio In The World. Get Ready For The Ultimate Hollywood Experience!
*Please Note: Universal Studios replaces the day trip to Manhattan Beach for students who select this excursion (Supplemental fee) 
Experience Six Flags Magic Mountain! Featuring 19 world-class, fastest coasters in the world!
Melrose Ave– Melrose Avenue is one of L.A.'s most famous streets, featuring trendy clothing shops, sneaker stores, restaurants and coffee shops.
Griffith Observatory– An LA Icon, Griffith Observatory showcases stunning views of the Hollywood Sign, downtown LA skyline, West LA, the Pacific Ocean, and more!
Professional Sporting Event– LA is home to some of the most powerful professional athletic teams in the nation. Catch an MLB or MLS game!
*Weekend Adventures are weather and schedule permitting.
"I had an awesome time on the program. The counselors were unbelievable, and the activities were amazing. The campus was beautiful. I met so many new people and had an excellent time. I couldn't have asked for a better summer!"
"The program far exceeded our son's expectations. He made wonderful friends, strengthened his skills, and had the time of his life. He can't wait to join the camp again next summer! Thank you!"
"The best summer of my life was hands down Malibu Sport Camp! I made friends of a lifetime and learned more than I could have imagined. It was so cool living in Malibu and on a college campus for the summer!"
The most Personalized program