Join ACA for the Summer-of-a-Lifetime!
Pepperdine University is nestled beautifully along the Southern California coastline – the best of all possible settings for the ultimate summer experience! Pepperdine is often voted one of the most beautiful university campuses in America, and with good reason! Overlooking the Pacific Ocean, the campus is home to the set of Zoey 101.
Malibu is famous for its warm sandy beaches and crystal clear waters, the perfect setting for your ultimate summer experience! You've got the cities of Santa Monica, Santa Monica and Beverly Hills and all the best that SoCal has to offer. Enjoy the beautiful beaches, the fame of Hollywood, and the picturesque Pepperdine campus for magical summer in SoCal! 
Transportation is not included in tuition.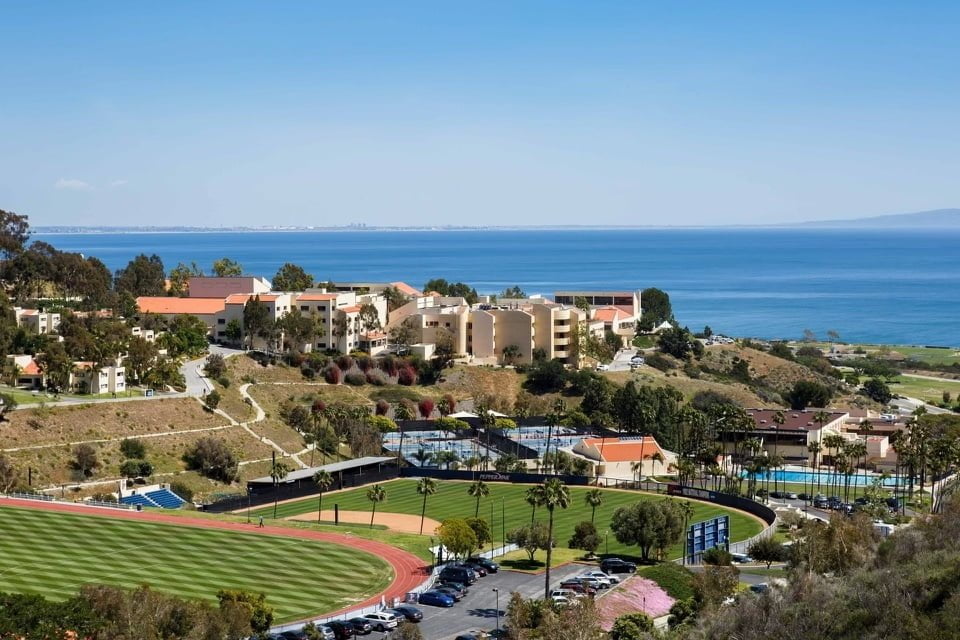 Classes run Monday through Friday.
ACA has always been committed to absolute safety for every student. We maintain a ten-to-one student-to-staff ratio – one of the lowest in the industry – to ensure everyone gets the unmatched attention and unique personalized programs they deserve.
As part of our commitment to student safety, ACA staff members live on student-occupied floors, accompany students on all activities and excursions. ACA takes care to use private transportation for our weekday activities and weekend adventure trips – never public transportation.
The Residence Hall adds an additional element of security, as well. The front desk is staffed 24 hours a day with trained personnel for your comfort and convenience.
We recommend that students fly nonstop to Los Angeles (LAX) International Airport. There they will be met by ACA staff members, who will escort them to comfortable, air-conditioned shuttles for the brief drive to Pepperdine's campus.
Of course, parents are also welcome to drive students to ACA directly. Contact our office for further information on any of these travel options.
*Transportation is not included in tuition.
ACA's signature Southern California program offers the kind of personal enrichment courses that build confidence for college while also giving you the chance to grow academically and intellectually.
The ACA experience gives you a welcome preview of college life, and still delivers plenty of opportunities to enhance your knowledge and pursue your interests. Get a head start on the coming school year. Do it all in an amazing summer setting, surrounded by new friends and without the pressure of grades!
ACA classes are graded on a "satisfactory" or "unsatisfactory" basis, and all students receive an ACA "Certificate of Achievement" upon successful completion of each course.
Classes are held Monday through Friday, and are taught by distinguished members of the university faculty, graduate students, secondary school instructors or SoCal-area professionals. Instructors teach in an interactive, seminar style, creating a supportive environment that encourages you to actively participate in each class.
ACA fills courses on a first-come, first-served basis, so we strongly recommend enrolling in the program early to better ensure the availability of your desired courses.
Course Options: 
You will be able to two of the following options for your stay in SoCal:
OR:  
You can choose one of the following options for your stay in SoCal:
Choose 2:
Elective
1 Selection (9:30am - 11:00am):

Elective
2 Selection (11:15am - 12:45pm):
OR Choose 1 Elective
Selection (9:30am - 12:45pm):
*Supplemental lab fee may apply
A striking coastal town just in Los Angeles, Malibu is home to countless celebrities, and now you can call it home, too! You'll live at Pepperdine with an amazing group of like-minded creative students and resident advisors in dorm-style housing. We pride ourselves on the fact that our residential amenities, top-quality food service and fitness facilities offer our students the very best. You'll kick back in comfort at Pepperdine, enjoying safe, clean and comfortable dorms with in-suite bathrooms, internet access and are for ACA only. These rooms definitely serve up cool California style!  
Breakfast and dinner at the on-campus dining facility feature a wonderful choice of kitchen-fresh entrees, a selection of side dishes, fruit, vegetables, salad bar, beverage bar, desserts, and fresh-baked breads and pastries. You'll enjoy lunch on the beach that gives you a variety of options. Your tuition includes includes three meals Monday to Friday and brunch & dinner on weekends.
On the shores of the Pacific Ocean, Malibu is a simply stunning place to spend a summer. It has the excitement of Los Angeles, the beauty of Santa Monica and the unparalleled pristine beaches of Southern California. Be sure to pack your sense of adventure!
Soak up the sun at Santa Monica Beach and jump the truly gnarly waves
Hoop it up at the ACA 3-on-3 basketball tournament and find out who rules the court
Get to know UCLA at its best during ACA's welcome scavenger hunt!
More than a zoo, it's an animal sanctuary – admire the animals at the Los Angeles Zoo
You have some big shoes to fill as you walk among the stars on Hollywood's Walk of Fame
See how your hands and feet compare to Hollywood elites like Meryl Streep, Brad Pitt, and Robert Downey Jr. in front of Mann Chinese Theater
LA comes to life at the Universal City Walk. Grab a bite at one of the famous restaurants and then hit the trendy shops, all set under the beautiful California stars.
See the gods at the Greek and Roman collections of the Getty Museum
Gaze up at the Hollywood sign as you browse the fashionable boutiques on Melrose Street
Devour a hot dog while watching one of the most storied teams in MLB history
Pump some iron and get big on Muscle Beach
Have your caricature drawn on the Venice Boardwalk and pick up a pair of hip new shades
Catch a sunset at Palisades Park; it doesn't get much more iconic LA than this
Savor a latte while exploring the scene on the famed Abbot Kinney Boulevard

Ride the dazzling Ferris wheel at the Santa Monica Pier

Hit all the fashionable boutiques and watch out for the paparazzi on the energetic Rodeo Drive
Sunset hikes, karaoke nights, bowling, mini golf, ultimate Frisbee, bonfires and more exciting activities and events are all part of your summer with ACA!
The Finest Fitness Facilities
The SoCal program offers outstanding athletic facilities that meet the needs of any exercise enthusiast. You'll have access to state-of-the-art workout facilities on campus and plenty of other athletic and recreational options during your stay. You can lace up your running shoes for a jog on campus, or hit the gym to pump some iron or get moving on an elliptical trainer. Outdoor tennis courts, basketball courts and plenty of other options are sure to keep you busy. Of course, a game of touch football or a little Frisbee is always a campus classic. Just make sure to pack your workout gear — it's going to be a very active summer!
Complete your experience with exciting weekend adventures with ACA!
Serious Shopping in Santa Barbara– Get a Mediterranean experience on the fabled "American Riviera." This is one of Cali's favorite shopping areas. Wander the cobblestone walkways of State Street and sunny expanses of open-air plazas and promenades in search of "must-have" fashions. Take a break for a gourmet treat, then get right back in the hunt!
University of California, Santa Barbara– Tour the breathtaking campus located on cliffs directly above the Pacific Ocean (optional).
Watch Dreams Come True at the Happiest Place on Earth… Be sure to check out Star Wars: Galaxy Edge, Fantasyland, Adventureland, Tomorrowland, Frontierland, Critter Country.
 *Please Note: Disneyland replaces the day trip to Hollywood for students who select this excursion (Supplemental fee)
Hollywood's Walk of Fame– You have some big shoes to fill as you walk among the stars on Hollywood's Walk of Fame. See how your hands and feet compare to Hollywood elites like Meryl Streep, Brad Pitt, and Robert Downey Jr. in front of Mann Chinese Theater.
Hollywood Sign– The Hollywood Sign is more than just nine white letters spelling out a city's name. It's one of the world's most famous monuments and a universal metaphor for ambition, success, glamour!
The Grove– LA's favorite shopping, dining and lifestyle destination is home to celebrity shopping sprees and special events!
Venice Beach– LA's most iconic beach known for its bohemian spirit, Venice is a buzzing beach town. Free-spirited Venice Boardwalk is the site of funky shops, street performers and colorful murals. There's also a skate park and Muscle Beach outdoor gym
Abbot Kinney– Abbot Kinney Boulevard features foodie hot spots, stylish boutiques and coffee bars.
Santa Monica Pier– A favorite for Hollywood movie scenes, this California icon comes alive at night. Take a ride on the world's first solar-powered Ferris wheel or stop by the famed aquarium to get nose-to-nose with the ocean's most fearsome predators!
Third Street Promenade– The world-famous strip features designer boutiques and award-winning restaurants, all in the heart of Santa Monica. The outdoor mall is full of colorful street entertainers and dancers enjoying perfect California weather.
Known as "The Pearl of L.A.'s South Bay" Manhattan Beach is home to over 100 locally owned, boutique, and specialty retailers and lots of trendy coffee shops and restaurants. Stroll down the boardwalk and soak up the sun on this pristine beach!
Go Behind-The-Scenes Of The Largest and Busiest Motion Picture and TV Studio In The World. Get Ready For The Ultimate Hollywood Experience!
*Please Note: Universal Studios replaces the day trip to Manhattan Beach for students who select this excursion (Supplemental fee) 
*Weekend Adventures are weather and schedule permitting.
Add 5 days to your Californian Adventure
Add to your SoCal experience and explore the wonders of San Francisco and the Bay area! (supplemental tuition required)
You'll remain in the secure company of trusted ACA staff members, as well as many of the friends you've made on your ACA program. Of course, you'll also enjoy the comfortable accommodations and superior guidance you've come to expect from ACA.
From the majesty of the Golden Gate Bridge to the natural beauty of Muir Woods, the City by the Bay is no doubt one of the prettiest on the Pacific, if not all of America! And for things to do, San Francisco is second to none.
"Braeden had the most incredible time in Malibu on ACA. He made some amazing friends and they all want to do it again somewhere else next summer with ACA! Thank you for everything. It was a really seamless two weeks!"
"My summer at ACA was one of the greatest experiences of my life! I have amazing memories and made the best friends on this trip that I will cherish forever. ACA provided countless opportunities!
"ACA was by far the best summer camp I've ever had the privilege to attend. The experiences were unforgettable, and words cannot describe how many lifelong friendships I made."

The most Personalized program